South Florida Chinese Communities United together and Donated Medical Supplies and Supported Healthcare Workers to Fight against COVID-19
Chinese Association of Science, Education and Culture of South Florida (CASEC) has been fighting against the new COVID-19 with collaboration of the US-China Enterprise Chamber of Commerce-Florida Chapter, the Florida Chinese Federation, etc. CASEC initiated and led a successful fund-raising campaign to protect the community and homes. We have collected over $50,000 and tens of thousands of masks, gloves and hand sanitizers.

All the funds have been used to purchase medical suppliers and donated to hospitals and first responders. Below is a list of donation activities ordered by sequence:
1:5/16/20日, Chinese American Communities donated over 5 thousand disposable face masks to Sheriff Department of Broward County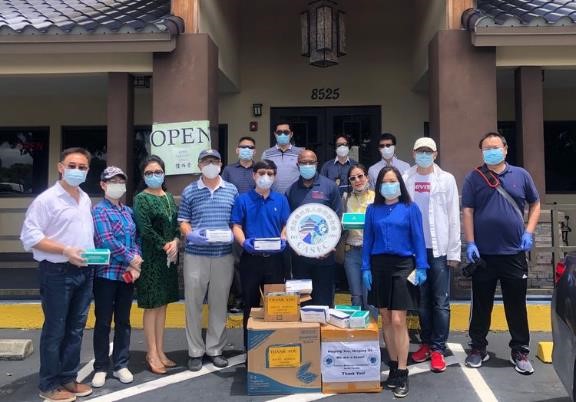 2:5/14/20 CASEC donated 10 thousand medical masks to VA Medical Center located in Palm Beach County
3:5/8/20, CASEC donated 200 medical masks to the TB Control Department of Palm Beach County in Florida. The staff of this department learned about the donation activities of CASEC from the local news and the CASEC website and contacted CASEC for help.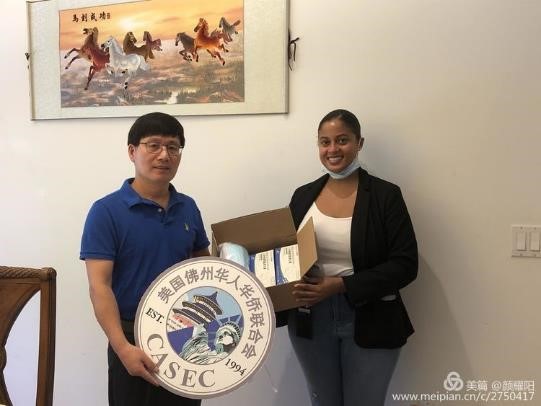 Ms. Giselle Bedasse (right), the department manager
4:5/8/20: The Secretary-General and Chief Financial Officer of CASEC, Rui Falcon donated 100 masks to Palm Beach Television (WPTV) on behalf of CASEC.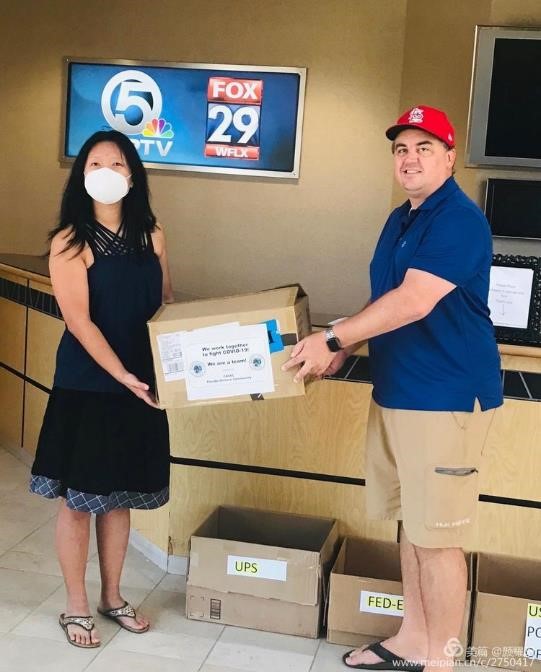 5:5/5/20: The China Overseas Friendship Association and the Houston Consulate General presented a batch of masks and gloves to several Chinese American Groups in South Florida. We CASEC received 3,000 disposable masks and 1,000 gloves.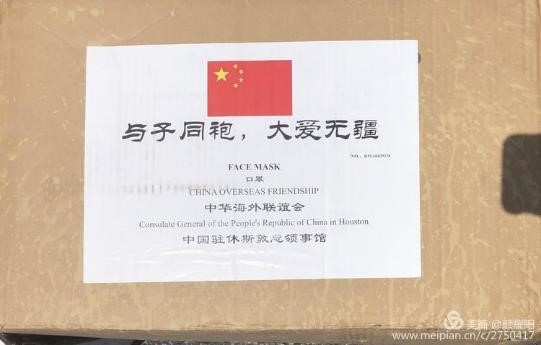 6:5/4/20: On behalf of the Chinese community in Florida, CASE donated masks and hand sanitizers to the Gift of Life Marrow Registry, a global public bone marrow and stem cell registry in Boca Raton. Donated materials: 200 KN95 masks, a box of 50 bottles of hand sanitizer, with a total value of more than 1,000 US dollars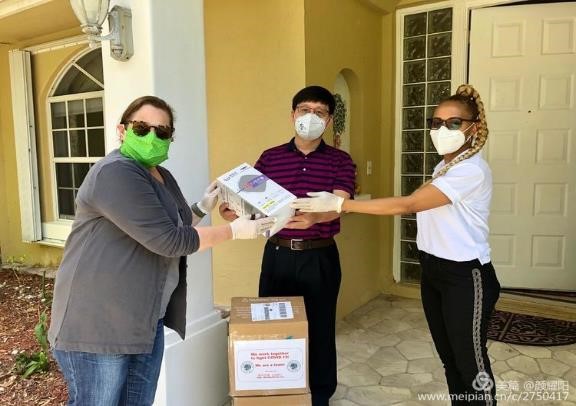 7:5/2/20: Entrusted by the Consulate General of Houston, the CASEC is charge of the distributing the "Health Packs" to high school students in southern Florida.
Lianfen Qian, Director of Education, CASEC, Yaoyang Yan, President of CASEC and Qingchuan Yao, past President of CASEC (from left 2 right)
8:5/2/20: Yingqi Feng, President of the Chinese Association of Students and Scholars of Florida Atlantic University, distributed the health packages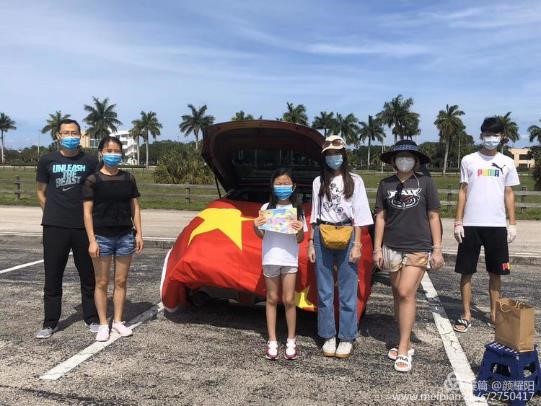 9:For the first time The Florida Palm Beach TV WPTV reported on 4/28 that CASEC, the US-China Enterprise General Chamber of Commerce Florida Chapter, and the Florida Hunan Association donated 21,000 masks on behalf of the Florida Chinese community on 4/16.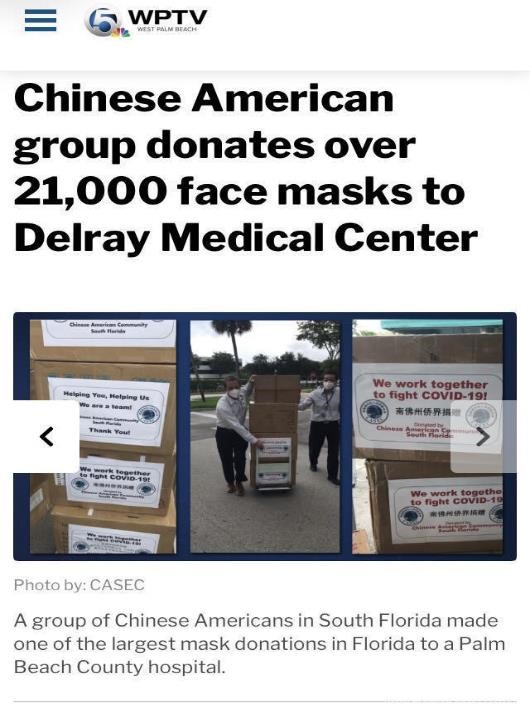 10:4/23/20, Leaders of several Chinese American organizations donated 3550 masks, 3,000 gloves, and 20 bottles of hand sanitizer to the Miami Emergency Center. Frank Rollason, director of Office of Emergency Management, accepts donations. Participants include Yunfu Wang, Xianqin Qu, Shaojun Wang, Weimin Sheng, Wenxiang Yuan, Yuepeng Li, Dong Zhang, Jianqin Wei, Yongxian Deng, Li Zhang, and Joshua Ho.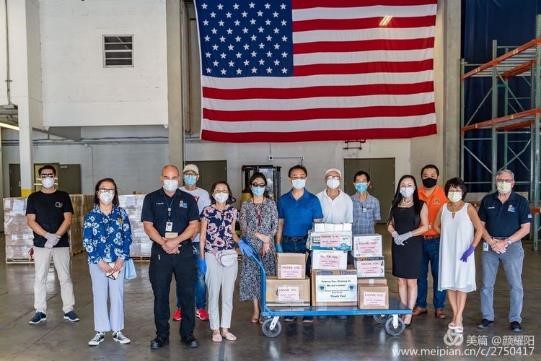 11:4/23/20: President Xiaofang Fan of the Hunan Clansmen Association of Florida donated medical supplies to UM Hospital. Donation list: 1. Four box masks 2. A box of surgical masks 3. Two boxes of N95 3M masks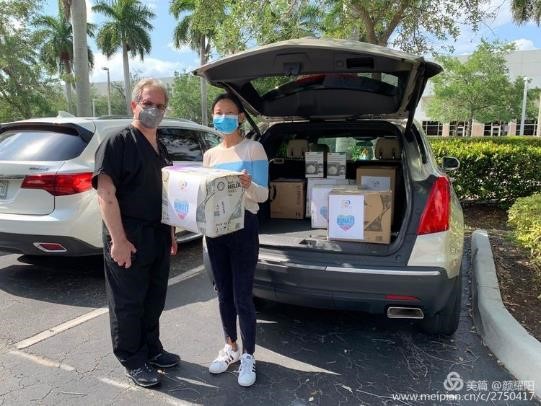 12:4/22/2020, C4 Traffic, Inc. donated $ 3,000 to CASEC to join the fight against pandemic! Mr. Chris Thomas, the president, donated $ 3000 to CASEC in the name of the company. C4 Traffic, Inc. is a digital media agency with a in firearms, prepping, precious metals, and finance. Founded by Christopher Thomas in 2017.
13:4/17/20: The Palm Beach Post reported on the front page on Friday (4/17) that CASEC and US-China Enterprise General Chamber of Commerce Florida Chapter donated more than 20,000 medical masks on behalf of the Florida Chinese community.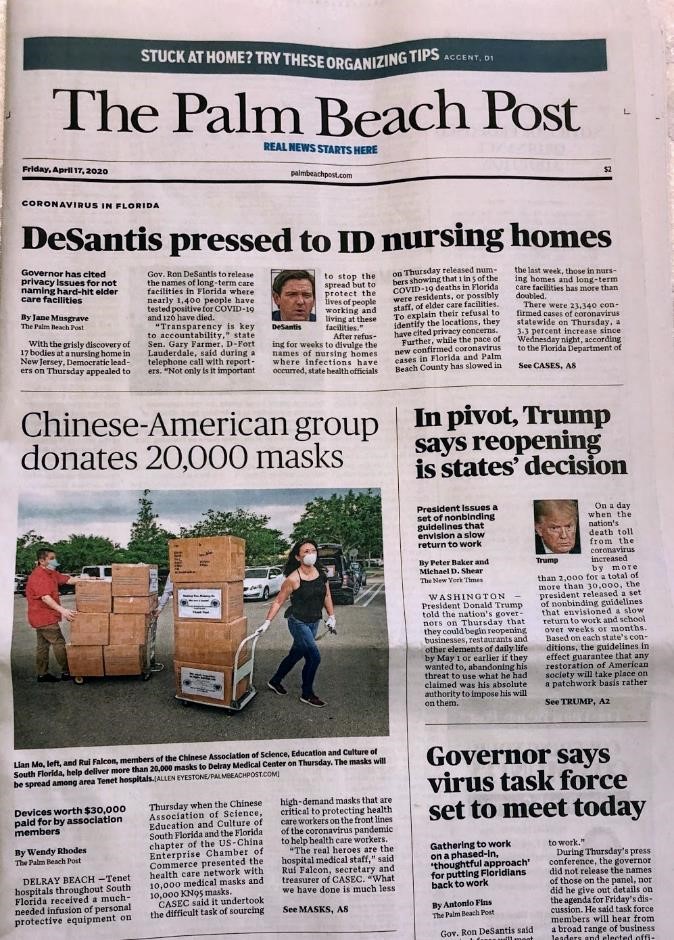 14:4/18/20 (Saturday), The Palm Beach Post again published photos of donations from representatives of the Florida Chinese community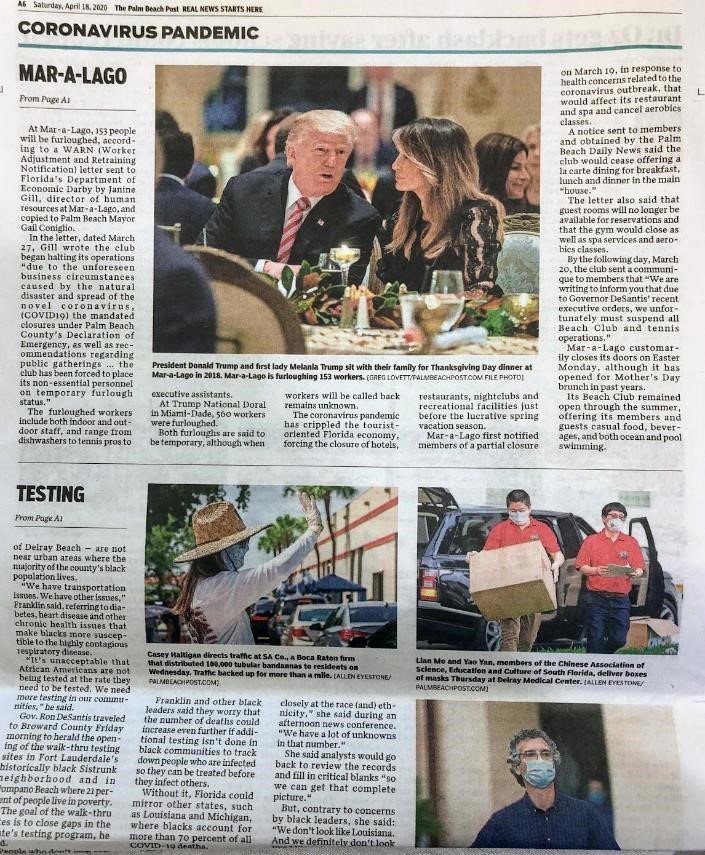 15:4/20/20 On behalf of the Chinese community in Florida, CASEC board members Zhaohui Fu and Yun Li donated 500 KN95 masks to Memorial Hospital at Hollywood.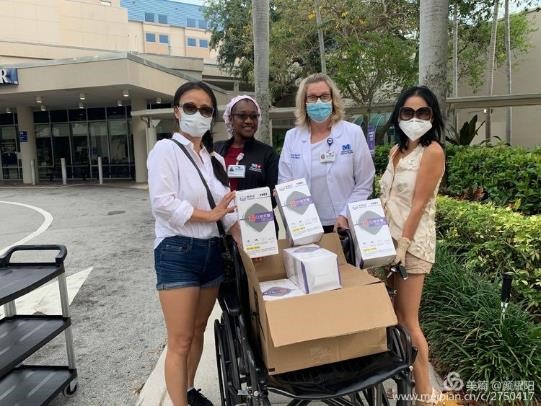 16:4/16/20 The West Boynton Branch Library Manager Cindi Permenter and Elisabeth Neumann, Head of Children's Department accepted 40 donated masks from CASEC. These masks were donated by Monica Rice (Yinbo Yin) to CASEC.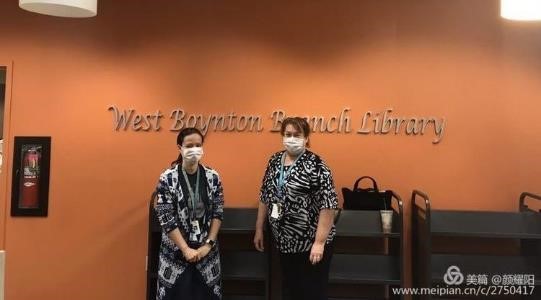 17:4/17/20: The Tampa Cheongsam team in Florida donated 800 disposable medical masks (FDA-certified) to the local veteran hospital. The chief of the hospital accepts our donation and expresses gratitude.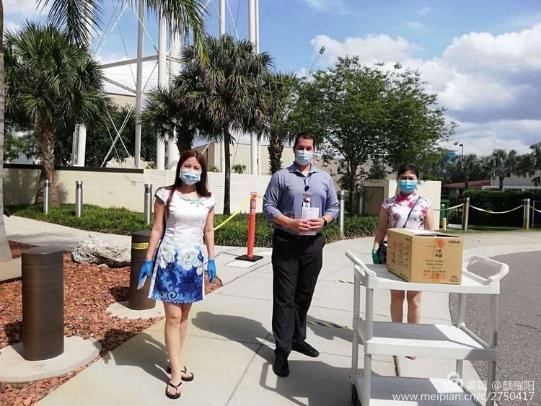 18:Xinzhi Li and Yan Lin couple donated 500 disposable surgical masks to Miami Beach Police Station and UM Hospital on 4/2 and 4/7, respectively.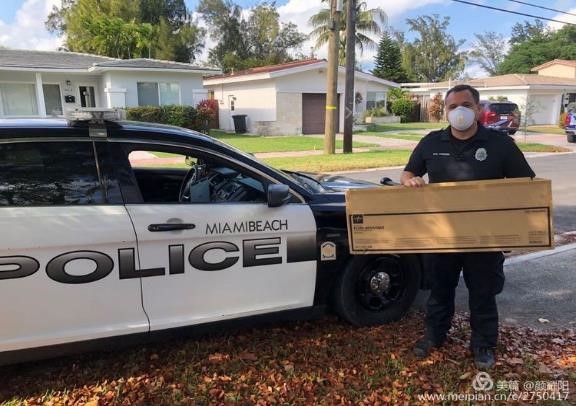 19:4/16: Yao Yan, President of the CASEC of Florida, and Gen Yang, Chairman of the US-China Enterprise Chamber of Commerce-Florida Chapter, donated 10,000 KN95 masks and 10,000 disposable medical surgical masks to the Tenet Healthcare Group on behalf of the Chinese American Community in South Florida. The Delray Medical Center is the main hospital for the treatment of new COVID-19 in the Palm Beach area.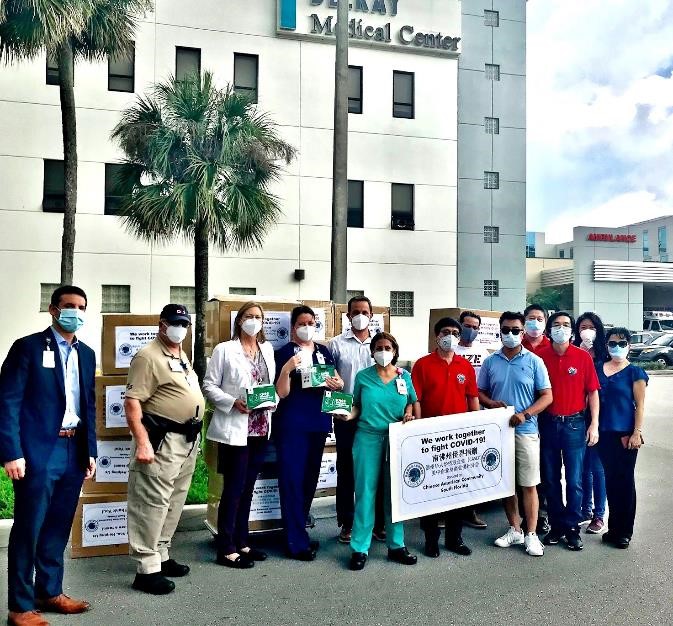 Palm Beach Post: https://www.palmbeachpost.com/news/20200416/coronavirus-florida-chinese-american-group-donates-20k-masks-to-area-hospitals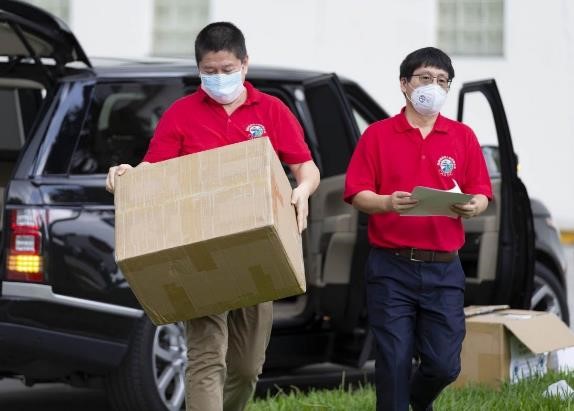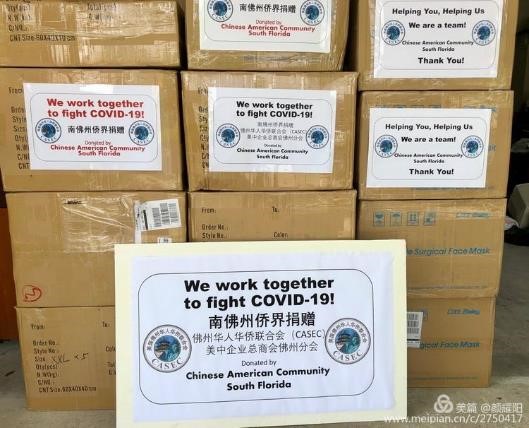 20:Gangpei Zhou, Deputy Chairman of the Hunan Clansmen Association, donated 1,600 medical masks on behalf of the Hunan Township Association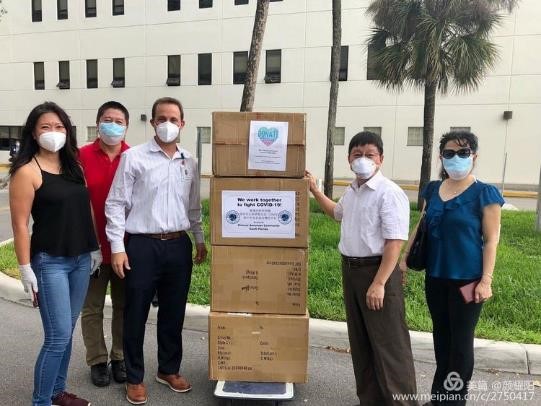 21:4/16/20, On behalf of the Chinese community of Florida, CASEC donated 900 disposable medical masks to the South County Mental Health Center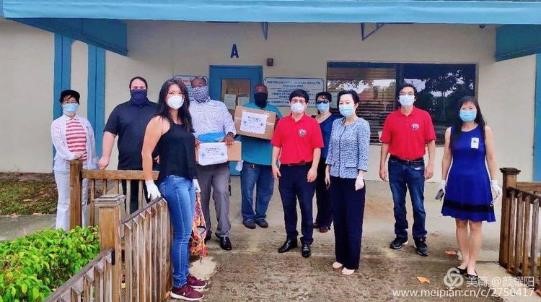 22:4/12/20, He Zhong (fist one on the left) and Zhaohui Fu (third one on the left), board members of CASEC, donated 300 KN95 medical masks to Holy Cross Hospital at Ft. Lauderdale on behalf of the Chinese community in Florida.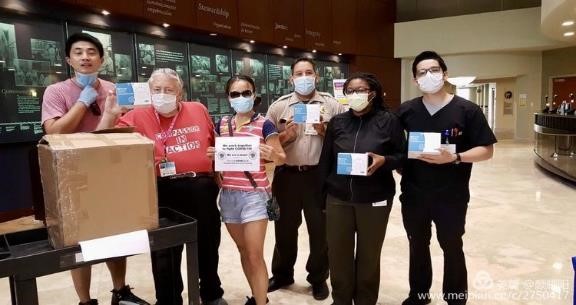 23:4/8/20, Florida Chinese American communities donated over 3,000 medical masks and 20 bottles of large-size alcohol hand sanitizer to City of Miami. City Manager Assistant James A. Poag accepted the donation on behalf of the city government and expressed gratitude!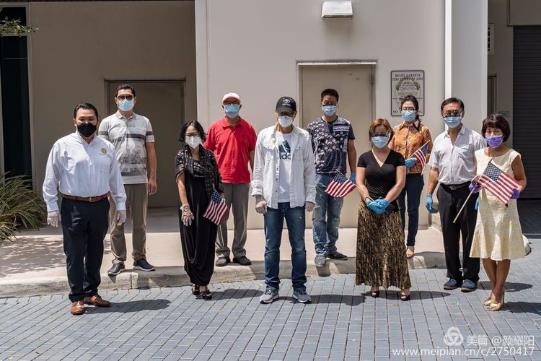 24:4/7/20, Jennifer Fu donated 100 KN95 masks to Amorita, Memorial Regional in Hollywood.
25:The South Florida Poetry and Literature Society has organized several donations since March 19, under the leadership of Professor Zhongwei Li, to donate masks, etc. to several hospitals:
26:4/3/20, Ms. Jinhong Meng, the former president of CASEC, Rui Guo and Secretary General and Yinbo Ye donated 500 high-quality medical masks on behalf of the Chinese community in Florida.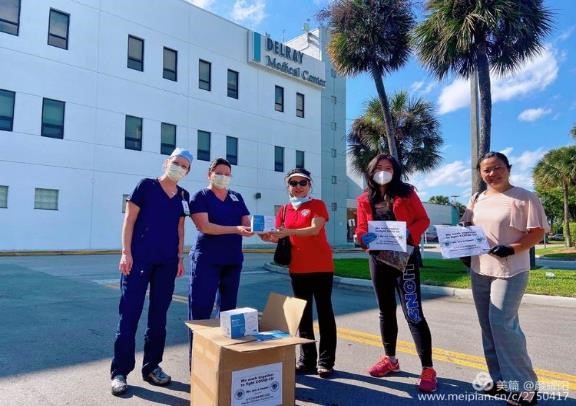 27:4/2/20, Local Chinese Xin Guan family, Apple family, Qi Yao family, donated N95 masks, surgical masks, DuPont protective clothing to North Broward Hospital (Photo: courtesy of Guan Xin)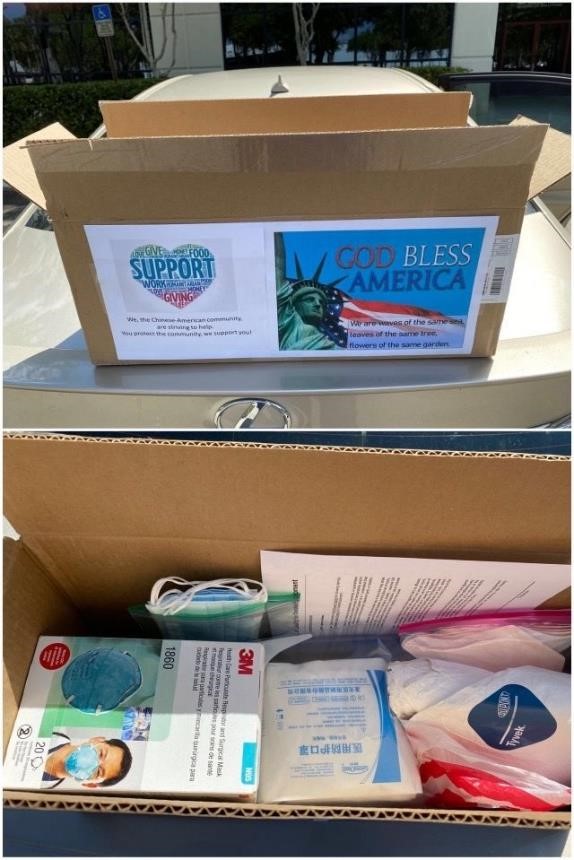 28:4/2/2020: Yan Tu, board member of CASEC, donated COVID-19 supplies to Boca Regional Hospital Representative Julie on behalf of the Chinese community in Florida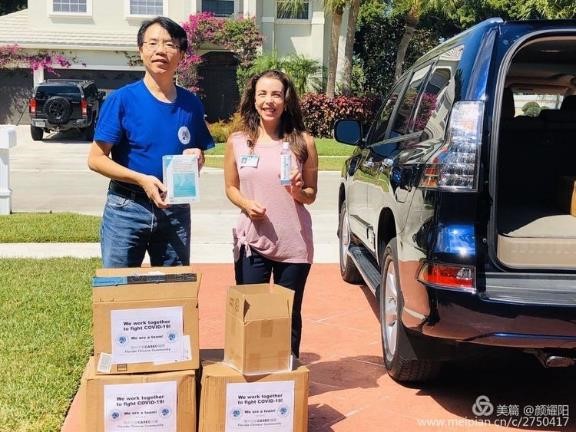 29:4/1/20: Boca Eagle Group and other Chinese friends donated N95 masks, surgical masks, and medical gloves to West Boca Medical Center (Photo: courtesy of Guan Xin)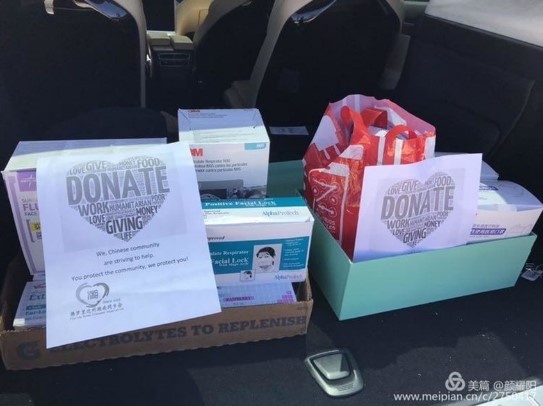 30:3/30: Buddhist Compassion Relief Tzu Chi Foundation, Florida Chapter, donated to Memorial Hospital Pembroke Pines some of the surgical masks that everyone helped to buy. A nurse was moved to tears. We sincerely thank everyone who participated in this loving action! Thank you for your donation: Ren Nain, Bingjie Zhao, Liu Yang and two lovely sons, Xin Guan, Sue Kong, Li Nan, Jiao Luo, Lao Gu, from the Southern Florida Poetry Society.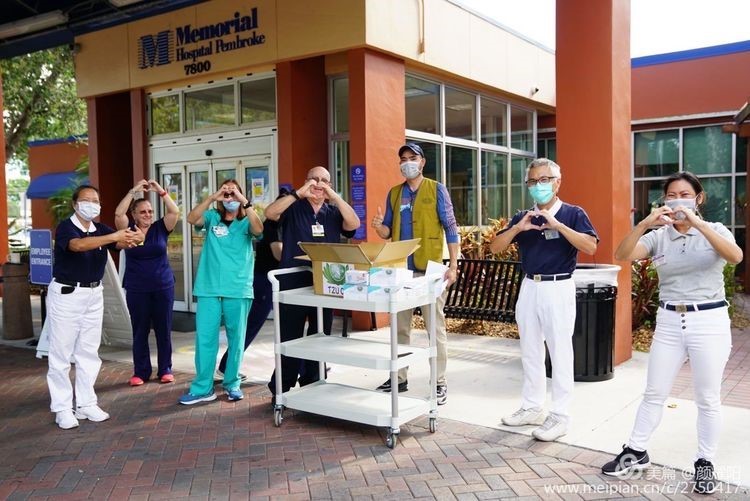 31:3/27/20: Mr. Wenxiang Yuan, President of the Hubei Association, and Professor Ming Fang, Chairman of the Board, donated 9,000 masks to the Memorial Hospital on behalf of a few community associations. Both NBC news and local media in the United States reported.
32:3/28/20: Shi Lei Translation Agency, Ms. Xiaolin donated 100 KN95 to CASEC to support community COVID-19 fund raising. Yun Li, CASEC Vice President, took a photo with Xiaolin when picking up the supplies.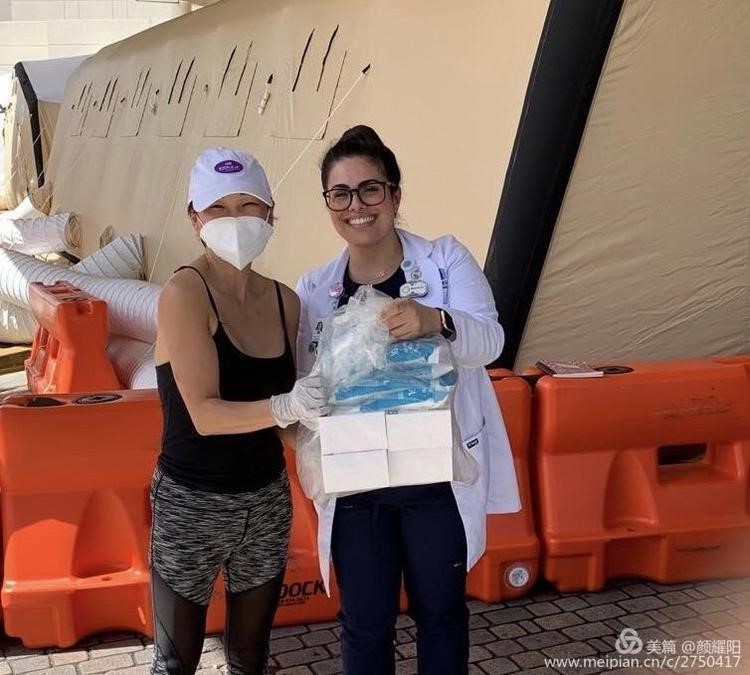 33:3/27/20: Dr. Lian Mo, Vice President of the South Florida Science, Technology, Education and Cultural Association and Rui Guo, Secretary General and Chief Financial Officer, donated masks to the Jupiter Medical Center on behalf of the Chinese community in Florida. This hospital treats COVID-19 patients. A total of 1,100 masks were donated this time, including 600 3M secondary medical masks were donated by CASEC, 300 medical masks donated by Xinzhi Li , Yan Lin, 120 vacuum-packed medical masks donated by the Hongying's, and two boxes donated by Lian Mo for a total of 50 third-grade medical masks; 10 3M N95 8511 masks, donated by Chunxiao Zhang.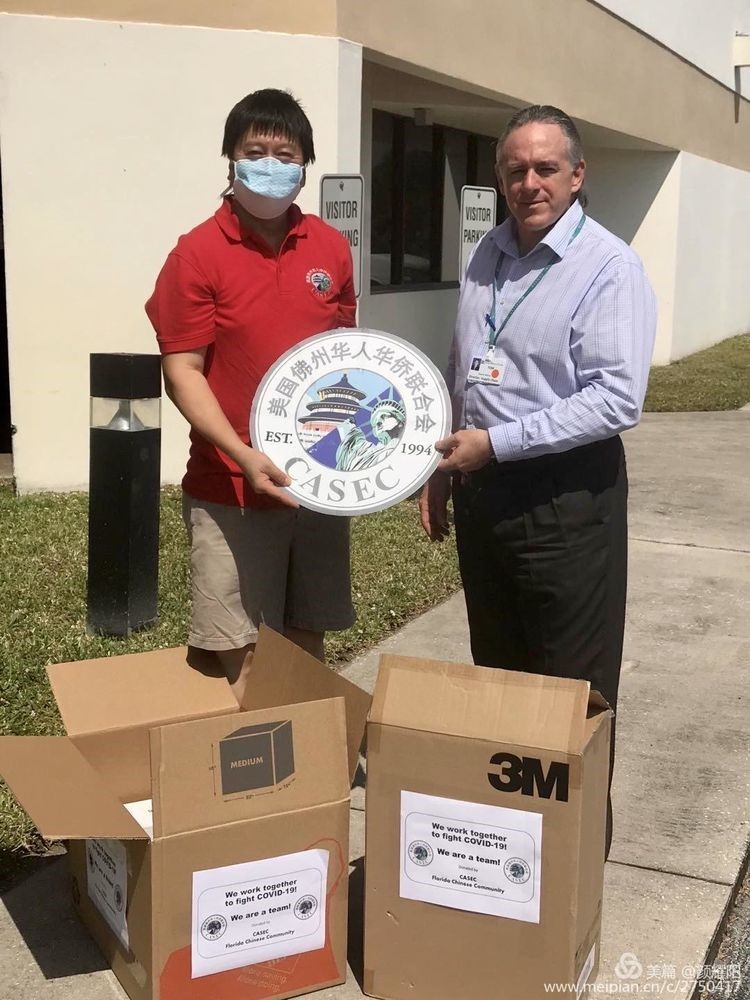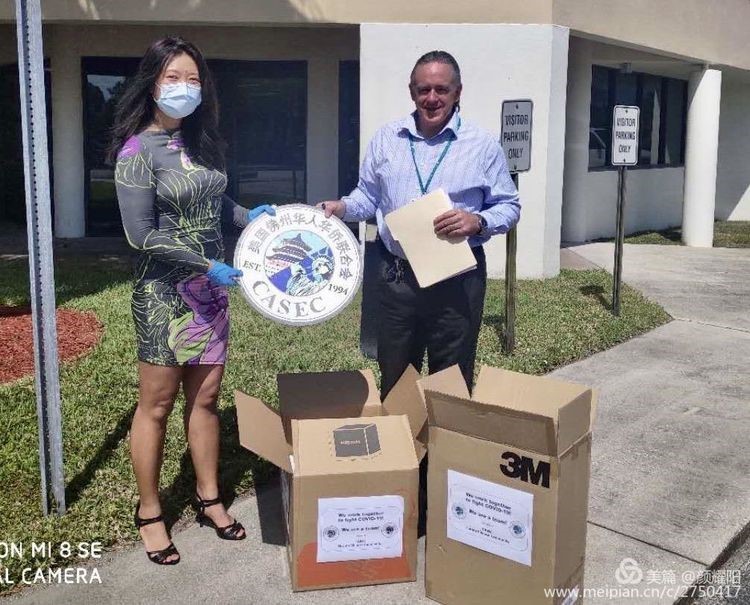 Rui Guo, Secretary-General, CASEC, and the hospital's representatives receiving donations
34:03/26/20: CASEC donated masks to Cleverland Clinic Florida on behalf of the Chinese community in Florida. 1, 200 3M secondary medical masks were donated by Dr. Huang Guanghan and his wife Heidi.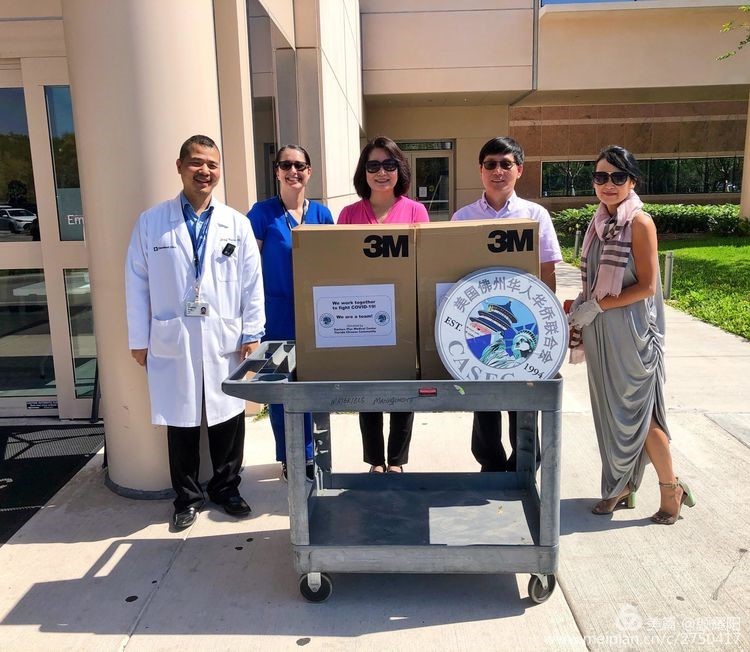 35:3/26/20, Dr. Shen of DuxLink Health accepted 2000 donated masks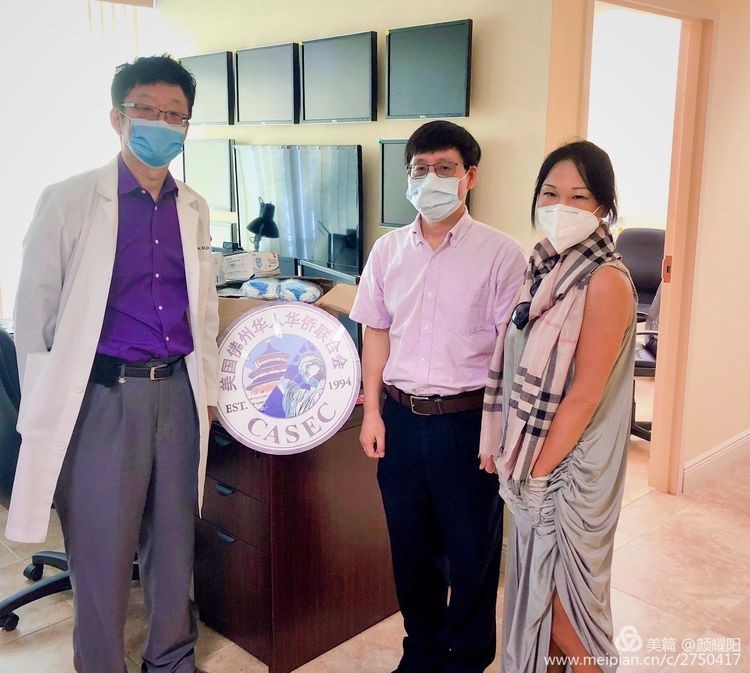 36:3/19/20: The Florida Chinese Investment Association purchased 800 3M 8210 N95 masks and donated 400 masks to UM Hospital and Holy Cross Hospital, each.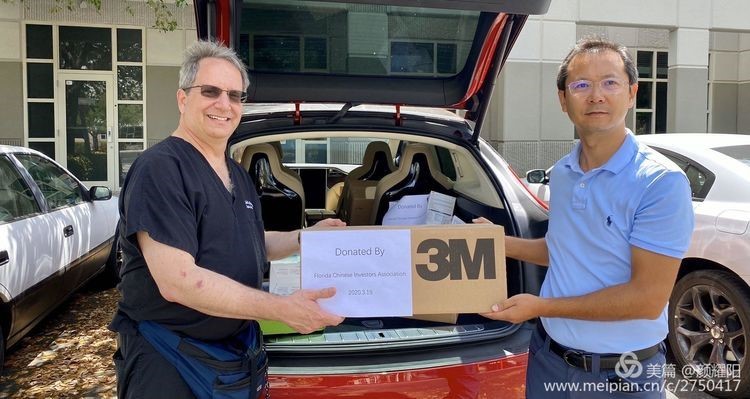 37:3/19/20: Xiaofang Fan, president of the Hunan Association of Florida, donated masks to University of Miami, worth of more than $1,000 on behalf of the association.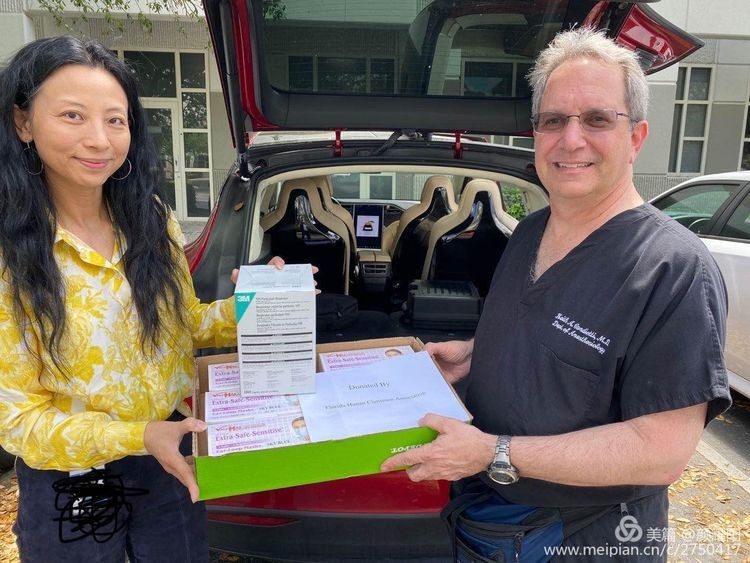 38:3/22/20: The Florida Fujian Association and the Florida Chapter of the US-China General Chamber of Commerce went to various local hospitals, police stations, and fire stations to donate masks.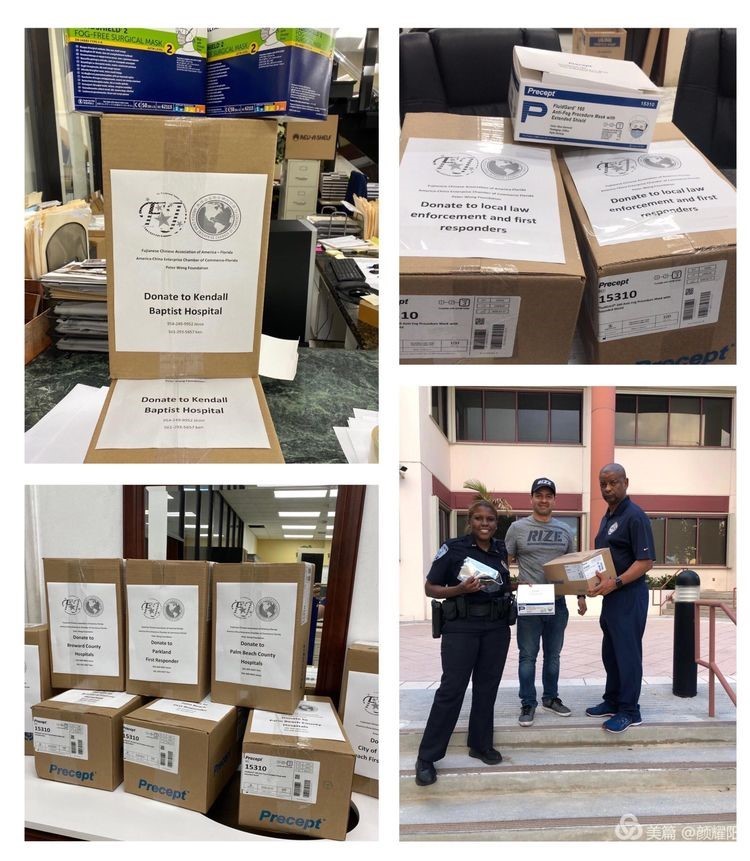 39:3/21/20: The Hubei Friendship Association of Florida donated 2,700 masks to the Memorial hospital.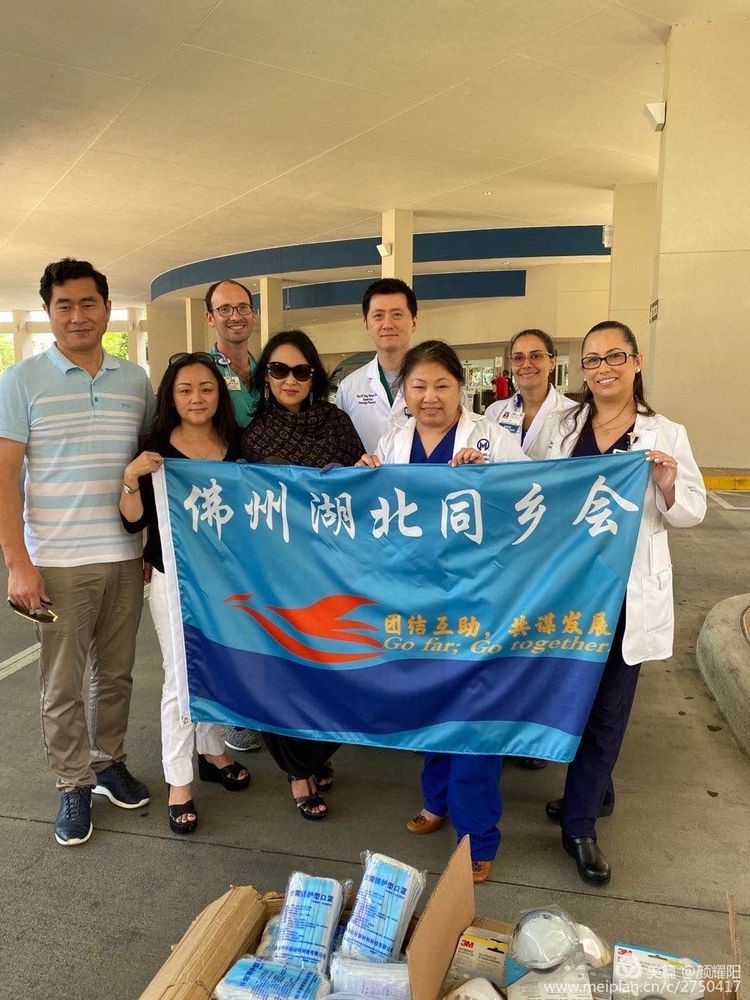 40:Ms. Yan Lin and Mr. Xianzhi Li purchased medical supplies. With the help from their employees, they sent the supplies to various hospitals, schools, etc. in batches. So far, more than 30,000 masks have been donated, including more than 1,000 top-grade KN95 masks. They also donated 15,000 masks to Florida International University (FIU).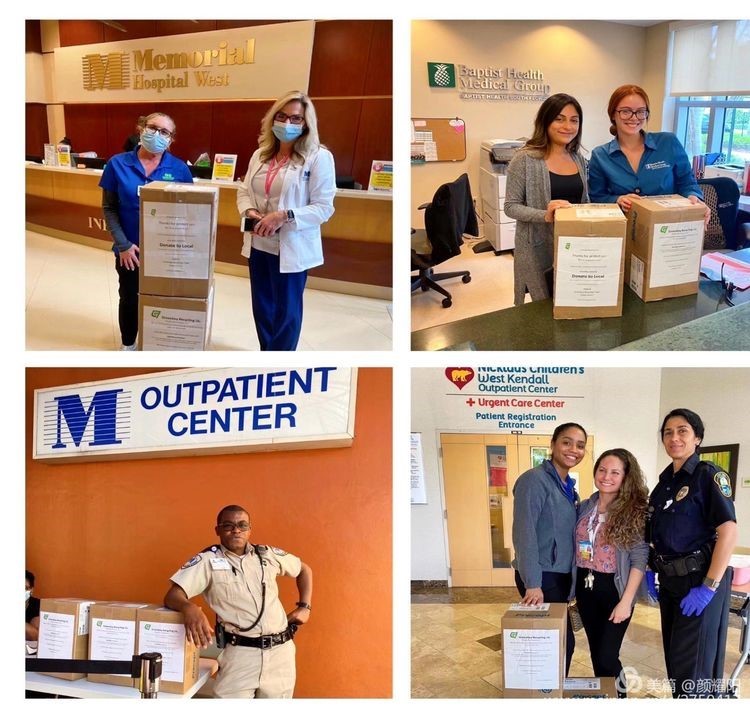 41:Ms. Meiling and her husband, who worked in the hospital in Miami, spent more than $ 30,000 and bought more than 10,000 masks to donate to hospitals with shortages of materials.